Chairing a Meeting: How to Avoid Overrunning Your Time Allocation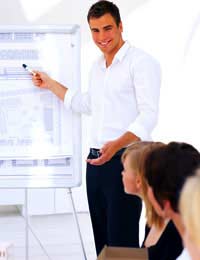 If you have the responsibility of chairing a meeting you will be in charge of directing proceedings, and ensuring the meeting runs smoothly. You will also have to take full responsibility for the time schedule, along with any necessary precautions to stop the meeting overrunning.
Opening Shot
It is a good idea to open any meeting with a short explanation of the meeting's purpose and agenda. This will relax attendees and clarify any conflicting points concerning time allocation etc. As the chairperson you are in charge of regulating the meeting, controlling participation and enforcing time rules. Keeping to a strict timetable is difficult when you have a number of speakers to consider, but you will have to ensure that each participant does not over-run their speech time restrictions.
Job Specifications
A chairperson has a host of duties and needs to be confident in his/her ability to control proceedings. Whilst remaining neutral throughout the meeting, you do have a lot of power and influence on the outcome of the event. Allowing sufficient time for attendees to express their views, on the agenda and subject under consideration, is one of the chairperson's key roles. Preventing irrelevant debate therefore is highly important, as this is the prime source of the meeting potentially overrunning.
Being fair-minded, receptive, flexible and firm will be amongst an ideal chairperson's traits. An open approach will enable you to ensure the views of the participants are given equal consideration, although firmness will help you deal with any problems that may arise and enable you to run meetings that fit into a strict time restriction. You will also need to be confident in your abilities to encourage and control others, and to open and close a meeting.
Informal:Not all informal meetings will rely on the skills of a chairperson, although generally someone will be given the responsibility of ensuring everyone has their say and the meeting does not over-run. Utilising time management skills will enable the chairperson to allocate each speaker sufficient time to say what they have to say, whilst maintaining a certain degree of flexibility during proceedings.
Formal:A formal meeting is run by a different set of rules. This type of meeting is chaired by someone who is carefully selected to take control of proceedings. The chairperson will have to ensure the correct amount of people attend the meeting, that the business follows agenda order, and most importantly, that there is sufficient time to deal with all the issues under consideration.
Time Trials
Besides keeping to the agenda, and ensuring all attendees have sufficient time to express their views, a chairperson will have to take control over pacing the meeting. If you have been given the responsibility to handle proceedings there are a number of suggestions available to help you manage events more easily:
Aim to schedule meetings before lunch. This will mean attendees are more focused on finishing the meeting on time.
Always start the meeting on time. Ensure you arrive at the venue well before the meeting is due to start, and begin the meeting on time. If attendees are late, start without them.
Inform attendees, at the start of the meeting, how long the meeting will last.
Use time effectively by keeping to the agenda, and offering reminders of the amount of time left, throughout the meeting.
You might also like...