Preparing Yourself for a Presentation at Work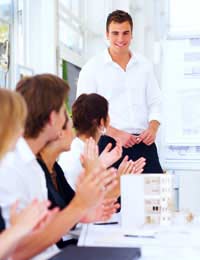 In order to achieve presentation success, in the workplace, you will have to take the time to carefully prepare the message you want to communicate to others and practice doing so.
Making Contact
What is the message you want to communicate to other people? What is the outcome you want to achieve? Understanding the purpose of your presentation will enable you to plan and prepare for success. Remembering your purpose, throughout your presentation, will also help you remain focused on your aim and goal. Doing this will ensure your presentation is delivered in a confident, effective manner that achieves positive results.
Once you have defined the content of your message take the time to plan your strategy. This should take into account what your message is trying to say, the audience you are going to say it to and the environment this communication will take place in. Now visualise yourself presenting this message, and think about the audience's potential response. If this visualisation does not feel positive enough continue to visualise the outcome you most want.
Your presentation should be simple, clear and succinct. You should aim to impress your audience with your research and knowledge and not your personality. Your positive, professional delivery will be remembered by the attendees, so it is important that your presentation is right.
Overcoming Fears
It is natural to feel nervous, apprehensive and anxious about making a presentation. Unless you are accustomed to speaking out loud in public, you will have to overcome these uncomfortable feelings before you can make a successful presentation. There are a number of techniques that you can use to help you control feelings of fear.
Concentrate on what you naturally do best. If you have a clear, confident voice focus on using this to speak words you are comfortable saying.
If you have a talent for relaxing other people with humour, use this as part of your presentation.
Practice rehearsing your presentation in front of a mirror – and remember to maintain eye contact.
Insider Knowledge
Always make good use of your knowledge, when making a presentation. Your aim is to relay information to an audience, whilst maintaining their interest. Holding their attention with your natural enthusiasm for a subject will ensure your presentation is successful.
If you need to research the subject of your message make sure you prepare well. Try to avoid the use of technology unless you know how to use the equipment and are prepared in case anything goes wrong during the presentation.
Time Out
Taking the time to prepare for a presentation is worth every extra hour of your time that you put into it. Start preparing for the presentation as soon as you possibly can – instead of at the last minute. Allowing sufficient time to formulate ideas, draft your speech, cut your speech and practice, practice, practice it will help you gain valuable experience. The more familiar you become with making presentations the more confident you will become in your presenting abilities and the less time you will spend preparing for the next one.
You might also like...