Helping Kids Cope With Stress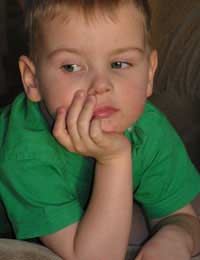 As adults we often think that children don't have much stress to deal with, particularly when we compare with adult worries. But children do suffer from stress and have concerns that worry them. They can find stress overwhelming and it's important for them to have ways to copy and deal with situations.
What Stresses Children?
According to a survey conducted by KidsHealth (kidshealth.org), the things that stress children most include:
- School life (grades, school, homework)
- Family life
- Friends, peers, gossip and teasing
Helping Children Find Positive Ways To Cope With Stress
Children often struggle to cope with stress. Without help and support they can develop negative ways of coping with situations. This can be seen in negative behaviour towards themselves or others, perhaps in their attitude to food, how they socialise with others, or through their emotions, such as losing their temper.
These are some ways that children have suggested they deal with stress:
Play or do something active
Listen to music
Watch TV or play a video game
Talk to someone, family member or friend
Recognising Stress in a Child
Sometimes children internalise stress and may not want to talk about something that is bothering them. Stress may come through in other signs: these may be changes in habit, physical symptoms such as headaches or nausea, changes in behaviour (such as no longer wanting to play with others), bedwetting, clinginess or emotional behaviour - such as crying or yelling. Watching out for any changes in behaviour may be an indicator that your child is feeling stressed.
Keeping Stress At Bay
Ensuring a child is fit and healthy is a good start to managing stress. Eating a healthy diet, combine with exercise and plenty of sleep means that they can cope better with stressful situations.
Keep Active
Exercise and keeping active is a good way of helping children relax and not to worry too much about things. Spending time with them helps even further and children will sometimes open up more when they are relaxed and happy.
Listening
Children won't always respond immediately if you ask them how they are. Spending time together can sometimes give them the opportunity to eventually open up and talk about what is happening in their lives.
Don't down play or tell them that their problem isn't significant; to them it is. Let them talk about it and encourage them to express how it makes them feel. You don't always have to come up with solutions or offer advice. They might be able to do this themselves.
Try not to criticise; remember it might be very difficult for them to open up and any criticism will discourage them in future from sharing their concerns.
Affection
A simple hug can often make the world of difference to an upset child. Sometimes there isn't anything you can do to change a situation, but some physical affection can make them feel better.
It's OK
The modern world can be a competitive place and it can be easy for a child to feel bad when they make a mistake or don't do very well. Tell them it's ok and talk about times when you've made mistakes yourself. Having a laugh about a situation can sometimes take the pressure off.
Provide your child with plenty of opportunities to talk and chat with you. Sometimes just spending time together will help them relax. Keep an eye out for signs that they may be stressed and encourage them to talk about their problems and how they feel. Finally ensure that they have plenty of ways to deal with stress before it impacts their health and behaviour.
You might also like...