Time Management Tips for Working at Home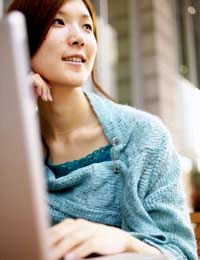 Working from home can bring many advantages. For a start you don't have to endure the morning traffic jams, and you also tend to have more control over your daily activities. But on the downside, if you work from home, you have to be very careful that your home and work life don't begin to merge together.
Time management skills are essential if working from home is going to be successful, both from a work and from a home/family perspective.
Top Tips
Designate a work area. This will help you mentally adjust into work mode when you go to your desk.
Set your work hours and stick to them. It might be tempting to sleep in or watching morning television. Be strict and establish a working routine.
Ensure everyone in the house understands and agrees that you are working and shouldn't be regularly disturbed.
Go home. Just as office workers leave and go home, so too do home workers. Mentally it's important to shut off from work and go 'home'. Some people find it useful to have a routine which symbolises end of working day, such as turning off their work computer and tidying their desk.
Take time out for yourself. It can be easy, when working from home, to be either working or doing home tasks. Remember to allow yourself some me time.
Track your time. This will help you understand how you spend your time.
Understand how long it takes to do tasks. Particularly if you bill customers by the hour, it's important to understand how long something really takes you.
Have your to-do list. Have a list of your essential daily activities and roughly how much time you should spend on each. Perhaps it's checking your emails, making phone calls, tending to paperwork, whatever the activity is, try to have an estimate of how much time to spend on it each day.
Use your time well. Stick to your priorities and focus on those tasks that will ultimately improve your business and make you money.
Make the best use of your time. There are some activities best left to the specialists, such as bookkeeping and tax returns.
Considerations
One of the advantages of working from home is being able to include home and family activities into your daily schedule. To make this work, ensure you have a calendar, which combines all your work/home activities, and allow for travelling time.
Be realistic. Trying to care for children and working at the same time doesn't work, and typically neither get done well. Make the necessary childcare arrangements, that way when you are with your children they have your full attention.
Recognise time-wasters. It can be easy, when working from home, to get distracted and waste time. Checking the news over the Internet can quickly turn into an hour wasted if you start browsing the Internet.
Case Study
"I decided to work from home after I was made redundant. We'd just had a baby, so it seemed to suit our current situation. I could continue to earn an income and I'd also be there to care for our baby. I was wildly over-optimistic in the early days how much time I would have to get work done and regularly found myself working in the evening trying to catch-up. Realistically I was only working part-time.
Over time I eventually came to a schedule that worked well for us all. I found that our son regularly took a long nap in the mornings, so this was the time that I responded to emails and made phone calls. I accepted that the afternoons were not time to get any work done. I actually liked the fact that I had time to dedicate to our son.
Once my partner got home I then spent two hours in the evening. I was pretty strict with myself otherwise I could have worked all evening. Working from home isn't easy; I've had phone calls ended early from a baby suddenly waking up! But I've found that if you're flexible you can make it work." Geoffrey.
You might also like...
Great tips and interesting topic.
Paolo
- 14-Dec-11 @ 9:05 AM