Clear Communication in the Workplace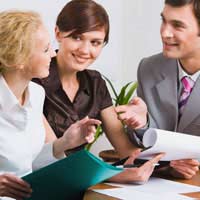 If you want to make instant changes in the workplace and improve effectiveness and productivity, clear communication is the key. Poor communication results in wasted time and money, interpersonal conflict, potential legal exposure and low morale.
Being successful in the workplace is a direct result of the way you put your message across. Communicating effectively, with staff, managers or the public, is a vital part of business communication. Consolidating your skills and building on your knowledge will enable you to improve your communication abilities and achieve far greater results.
If you work with others there are basic rules of communication that you must adhere to on a daily basis. Speaking, writing and listening all combine to put your message across to other people. Communicating clearly allows you to get things done effectively, obtain information, make decisions and develop positive business relationships. Poor communication, on the other hand, may cost you more than the time you have to take to explain something a second time.
The Rules of Success
Know what you want to say. Being clear in your mind – write it down if it helps – will enable you to clarify your message.
Communicate clearly. Putting your message across with the minimum of fuss will allow others to understand the meaning in your words – whether written or spoken. Communicating visually, or a combination of all of these methods, can also work just as effectively.
Make sure that your message has been clearly understood. Clarify any points that may need refining as soon as possible. Always match your communication medium to your message carefully. For instance, an urgent message may benefit from clear, spoken telephone communication, instead of email.
Asking Questions
When wanting to gather information why, what, how and when are the most powerful words you can use. If you want a specific answer you will have to ask a specific question, so it is worth your while asking open questions to enable you to gain insight into the other person's character before asking the all-important specific question.
Types of Questions:
Open questions invite open discussion and will allow communication to flow.
Closed questions are specific and can generally be answered with a yes or no.
A fact-finding question allows you to explore further information.
Follow-up questions can elicit opinions and provide you with further information.
Feedback guarantees particular information is received.
Active Listening
The most important aspect of clear communication is that both parties understand each other completely. How you listen conveys meaning to the other person, and can make all the difference in how successful your communication exchange is. Listening intently will make the speaker feel more confident, which in turn could help you achieve the result you are after.
Empathising: allows you to draw out the speaker, in a comfortable manner, and may help you uncover more information. This is done by talking less, listening more and offering encouragement and understanding.
Analysing:enables you to explore statements further. Asking further questions, paying attention to the other person's responses and picking up clues will help you gather all the information you may require.
Synthesizing:allows you to work with the other person so that you both achieve a desired result. This requires an exchange of further ideas as you both respond to statements and solutions.
You might also like...