Communicating to Achieve Results in the Workplace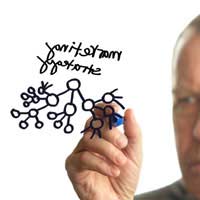 Knowing how to exploit the media is a challenge many managers have to face in the workplace. Being able to influence clients and customers effectively is of high priority, and of great importance, to many companies and organisations. Communicating well with other members of staff however, is every bit as important.
Creating an Identity
Your company identity influences the way other people – both externally and internally – view your organization. Corporate identity creates and expresses a message. This is done by presenting a visual image and is backed up by the methods of communication that you choose to use.
Every piece of paper you use will carry a logo, or company identity, and delivers a message even before you add any ink to the paper. Ensuring the image you display is coherent is important to your company's reputation.
When using this medium to communicate ensure all vision and mission statements are short, precise and direct. The logo will promote company awareness, and your chosen words will deliver the message.
Using the World Wide Web
It is always worth keeping an eye on what your competitors are doing.Exchanging information via websites has become a standard company procedure, as it is a direct way to provide potential clients and customers with relevant information, with ease and speed. Anyone can access your information in this way, so it is important that you develop a site that sells your information in the correct way.
Seek professional assistance when developing your website. This may seem like a costly indulgence but the results will be worth every penny spent. By all means research other websites, and copy and adapt elements that you feel will suit your company.
Working the Team
If you want to get the best from people do your research. Get to know your colleagues and staff and find out who is best at what. Crediting staff who perform well is a great morale booster. Also ensure that excellent performance is featured in any corporate magazine or newsletter.
Make sure you attend any social work gatherings whenever possible. This communicates a positive impact and allows you to acquire informal feedback from staff members. Make sure you act on any feedback – negative or positive – as soon as possible.
Internal communications can also be improved by involving all senior staff whenever possible. Regular team meetings will also allow communication to flow more freely and encourage an exchange of ideas.
Listen to what your staff say. Informal one-to-one meetings can allow staff the opportunity to express their concerns, and provide you with invaluable information that could benefit you and your company.
A Market for Marketing
Catching the attention of people and arousing their interest in your company may be something your organisation has to do on a daily basis. Using media techniques to attract new business is a powerful means of delivering important information. In-house marketing can therefore provide a very effective means of communication that allows the management message to hit home and reach more people.
Using internal publications, intranets, handouts and team meetings will generate positive communication and will encourage the flow of motivational exchange.
You might also like...