Handling an Audience at Work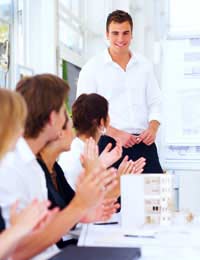 If you are experiencing sweaty palms, loss of concentration, stomach cramps and any other number of uncomfortable feelings, chances are you are about to face an audience. Whether you are about to face a conference room full of delegates or a small office space of people you know well, you will still want to achieve the same results. You will want to communicate your message effectively, engage the audience and perhaps even make them laugh.
The secret to handling an audience successfully is being able to judge the mood in the room. Preparation is a key factor when presenting any information to an audience. Whenever possible try to arrive at the venue – conference hall or office – with enough time to allow you to gauge the mood in the room. If you are presenting to an audience after someone else has already spoken and set the mood, you will be able to build on the audience's response effectively.
If the audience appears bored before you have even started your message will reach deaf ears. Starting confidently, and stimulating your audience, will create a positive mood and liven up the room. This will increase interest in the message you are about to deliver.
Spotting the Signs
Once you know what to look for it is easy to spot signs of interest in an audience. Smiling, nodding or leaning forward all indicate that a person is interested in you and what you are trying to say. Engaging a person who shows any of these positive signs will help you effectively communicate your message.
Negativity often manifests in a closed posture – arms folded, legs crossed and an impassive facial expression. Leaning over and talking to a neighbour also shows signs of disinterest in your presentation. However, a lone negative sign may not be a true reflection of lack of interest, so check the whole picture before dismissing.
Dealing with Questions
You have engaged your audience successfully and are in full flow. What do you do when someone unexpected asks a question? Learning to cope with the unexpected will ensure you are armed with confident responses to whatever an audience can throw at you. Carefully researching your subject or message, drafting your speech and presenting a confident stance will help you overcome any difficulties that may arise. Dealing with individual questions, and providing additional information will generally enable you to deal with any question or query from the audience.
Always think before you speak. Pausing to absorb the question will allow you sufficient time to come up with a suitable answer.
Control your audience by making sure questions are asked one at a time.
Keep your answers short and to the point.
Be ready to divert hostile questions back to the audience. Remaining confident and calm will enable you to win the audience over with your knowledge.
Silence is Golden
Dealing with an unresponsive audience can be a little disconcerting. Finding common ground with the members of your audience will enable you to engage them in providing some kind of response. Use your experience of past presentations, speeches or occasions to coax your audience into asking questions. Questions are important because they provide access to further information, so it is important that you allow time for questions from your audience even if you are certain none are forthcoming.
You might also like...