Exchanging Information to Get Results in the Workplace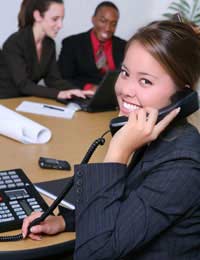 Exchanging information in the workplace can achieve a number of instant results, ranging from open, direct conflict to harmonious agreement. Spoken or written communication is most often used to convey your message in the most direct way. Getting this wrong however, can result in an unsuccessful information exchange that could affect productivity, decision making and negotiation.
A good start to any information exchange helps your chances of achieving a satisfactory result at the end. Your words will be of great importance, but so too will be the way you greet the other person. Make sure that initial greetings are welcoming and courteous, and that all exchanges end in a pleasant manner, even if disagreement has occurred.
Managers, and senior staff, may spend most of their day passing on information to staff, clients and customers. Clarifying the information to be exchanged will ensure progress is made. Before this can be done however, you will have to find out which piece of information carries the most importance, and then decide which medium offers you the best choice of delivery.
Using The Phone
The phone is a vitally important communication tool because it allows instant contact between people, no matter how great the distance is between them. It is therefore worth using this medium to create opportunities to improve your information exchanges.
Making a note of the key points you want to discuss will ensure you get to the point quickly.
Smiling, whilst speaking, will encourage the person on the other end of the phone to respond in a positive manner.
Using telephone features like 'call waiting' can allow you to free up extra time in your schedule.
Timing the length of your business calls will encourage you to put your message across succinctly.
Information Technology exchange
The desktop, or laptop, computer provides a complete message centre for anyone wanting to exchange information with ease and speed, anywhere in the world.
Both email and fax can help you exchange information with people who take up too much of your time on the phone.
Email is fast, easy to use and environmentally friendly. It is a key way to keep staff members informed throughout the working day. When using this medium however, be as brief as possible, and make sure you distinguish business email from email of a more personal nature.
Websites can be used to carry information to customers and clients very effectively. The internet is a valuable tool for research and can also be used to great affect for interactive dialogue exchanges.
Letter Writing
To compile a document that presents a clear message it is important that you clarify your thoughts before drafting your letter.
Plan what you want to say, and write the whole letter without pausing. Once you have done this you can reread and edit accordingly. Once spelling and punctuation have been checked your letter is ready to be sent.
Any business letter that is sent in the post has a purpose. Composing a clear, easily understood letter will provide the reader with the required information. This is done by using simple text and short sentences, and avoiding jargon or abstract terms, which may obscure the message you are trying to put across.
You might also like...