How to Set Up a Team at At Work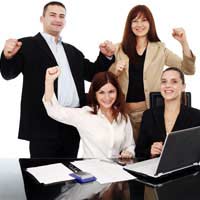 If you manage a group of people in the workplace sooner or later it will be in your best interest to set up a working team that is able to pool resources and harness skills for specific goals.
Establishing Trust
Once you have defined why you need to set up a team, and have selected the key people with the most appropriate skills, you now need to establish a way each team member can exchange ideas and build mutual trust. A free exchange of ideas, in an open environment will allow your team to get to know each other and enable you to check on how they work together.
Setting up a series of informal meetings, early on in your project, offers an ideal opportunity for team member exploration. It is the perfect time to discuss your project, delegate particular tasks, set individual roles and discuss objectives. Always make sure that everyone involved understands every stage of their involvement.
Setting Goals
Goals vary hugely, and the team you have chosen should be the one most capable of achieving excellent results within the boundaries of your target goal. When setting targets however, it is worth considering the aims, strengths and weaknesses of each individual team member. This will help you clearly define the overall objective.
Allowing your team to come up with targets will motivate team members to think creatively, and will enable you to support them by offering motivational praise and/or rewards. Adding a number of stretching goals – where individuals have to stretch their skills to acquire the desired results - will help push individuals beyond their skill set and will give them valuable experience they can use in the future.
Encouraging Ideas
Working within a team opens up the opportunity to explore more goals than any one individual could come up with on their own. Sharing expertise within the team will promote new ways of tackling tasks and reaching goals, and will also help establish an open communication exchange. It is therefore very important that all ideas are encouraged and explored before being dismissed as inappropriate. Lateral thinking is a perfect way of generating even more free flowing ideas.
Maximising Your Team's Performance
Targets should be challenging, with a combination of different goals – specific, general and time-related. This will allow your team to work together, using specific skills, to share responsibility and achieve better results. Make sure you also add a couple of targets, which will stretch your team. This will benefit both you and the individuals in your team because you will have used skills that extend your personal abilities.
Worth Remembering:
Regular informal meetings will foster trust between team members and encourage ideas to develop.
It is important that all team members know exactly what objective they are working towards.
Do not set specific goals until the team has been able to discuss possible approaches to the task.
Stretching your team, beyond their capabilities, will help them grow their skills.
Encourage, motivate and praise your team whenever possible. Doing so will keep them inspired to do more.
You might also like...