Improving Team Efficiency to Help with Time Management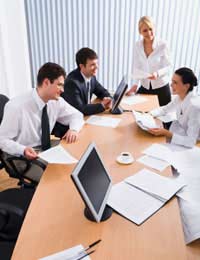 For a team to work efficiently every member has to be willing to take full responsibility for their designated tasks. Problems, however, may arise when tasks overlap, or through inexperience or even poor resources. An established time management programme will help iron out any of these difficulties.
Team Work
People naturally work well together in teams. Without too much upheaval individual members will usually carve out their own niche of responsibility – due to their strengths, weaknesses, experience and interest – within the boundaries of a team framework. Achieving this kind of cohesive behaviour is relatively easy, provided each individual is willing to work together for the good of the team, and not just themselves.
Encouraging the team to spend as much time together, whilst the team bonds at least, will enable you to gather insight into how effective results could be. It will also allow you to identify skills and the team time to get to know each other properly.
Communicate to Educate
To get the best from other people you have to communicate your message well. This obviously includes issues involving time management, as without sufficient, well-delivered, information other people will have trouble understanding your point of view. The way this message is delivered is also important as it is an opportunity to encourage the involvement of other people, as well as a means of accessing further information and defining your request.
Being responsive – that means really listening to feedback and comments – will help improve efficiency and effectiveness. Using email and intranets will also enable you to keep communication flowing as the team develops a strong time management focus.
Conflicting Interests
Whenever a group of people work together there will always be the threat of conflicts arising. These can be emotional, suppressed, constructive, reactive, destructive and any number of other things. Using an open-minded approach will help you deal with any situations that arise within the team. Diffusing a confrontational situation can be done by replacing an emotive approach with a more rational and practical one, and this should be done as quickly as possible.
Leader of the Gang
It is important to adapt your leadership style so that it fits in with your team. Being active in supporting individuals, and ideas, will ensure your team pulls together to work efficiently towards the completion of your goal. A supportive manager will always gain the trust of his/her team through honesty, good communication and a genuine interest in the members of your team. Make sure this is part of your management package.
Leading by example – ensuring your time management is the best it could possibly be – will also offer visual proof of your message.
Checklist:
Make sure all individuals are happy working together.
Ensure the team works as a team as much as possible.
Use email, and other methods of communication, to ensure your message is understood and up-dated.
Diffuse conflict by being open-minded and rational.
Review your leadership style, and skills, from time to time.
Listen, support and encourage.
You might also like...