Understanding How Delegation Works in the Workplace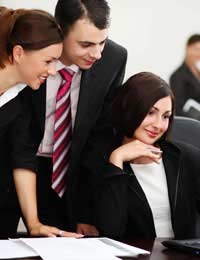 Using delegation successfully in the workplace requires that you set up a monitoring system that allows you to keep a check on the progress being made. This will also allow you to focus special attention on any area that requires it, and enables you to support or intervene as appropriate.
How to Supervise
Maintaining control and supervising is not the same thing. Maintaining control means you doubt someone's capabilities to complete an assigned task successfully. Supervising means you trust the individual to perform the task to the best of their abilities, but you are there to offer support or encouragement should they need it.
Maintaining a slight distance between the other person and yourself allows room for a greater positive response or outcome. Resisting the temptation to intervene will enable the delegate to work efficiently and effectively by their own set of rules. Not everyone tackles a task in the same manner, and you must remember this when delegating work to other people. Setting up regular progress meetings and/or reports is a sufficient means of keeping an eye on performance.
How to Monitor
You can monitor progress in any number of ways. You may request regular written or personal reports, access information via your computer, chair regular meetings or offer an open-door policy. The latter will encourage delegates to seek support on a day-to-day basis and enables you to provide constant support.
How to Encourage
Once you have delegated a task you must step back and allow the delegate to complete this mission. Encouraging the delegate to resolve any issues or problems that may arise will stop them becoming discouraged, and will also help increase their skills. It is therefore important that you maintain boundaries and keep any review sessions as brief as possible.
How to Improve Skills
Ensuring you have chosen the right person for the job is not always easy. Delegating a job to someone who lacks the skills and experience to achieve the desired results is demoralising, discouraging and a waste of your time and resources. Making sure your staff is up-to-date with any training requirements of the job will provide you with a team of people who can competently tackle projects. Do not be afraid to set an example by being trained yourself.
Learning Curve
As with all new projects, set-ups or situations, you may encounter failures and mistakes. Encouraging delegates to be honest and open about any problems or errors, as they occur, will allow time to find a remedy or solution. Use every mistake as a stepping stone to greater knowledge, and review notes of any errors when subsequent delegation occurs.
Over a period of time your trust in delegating work to other people will be rewarded by the freedom to delegate further work, and have greater time in your day to complete more tasks.
Do's
Do ask for regular progress updates and feedback from delegates.
Do encourage a delegate to make their own decisions.
Don'ts
Don't intervene unless absolutely necessary. Stepping in too soon will discourage growth in the other person's confidence in their own ability.
Don't hint that you may doubt someone's ability to handle a task.
You might also like...