Managing Your Time During Daily Events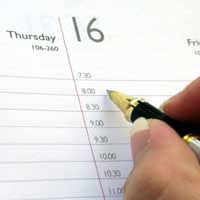 When you stop to consider all your regular commitments it may come as a surprise to you that you actually manage to get things done at all. Most people will have a long list of regular tasks that conflict, and require more of your time as a result. Keeping your daily schedule as clear as possible will help you manage your responsibilities and tasks more easily, and will make daily events a pleasure to undertake.
The Commitments.
Compiling an overview, or timetable, of all the events that take up important chunks of your day, will enable you to identify exactly what must be done, along with anything that can be postponed or delayed. If you have major family or work commitments to take into consideration make sure these events are highlighted on your timetable as soon as possible. This will allow you to slot in other events or tasks around the most important ones.
Routine Business.
Viewing your daily events as a scheduled routine means that you will be more likely to allocate your time consistently. Having regular time-specific tasks that you have to complete will provide you with a manageable routine that you can work around. Anything that requires your attention on a regular basis – school runs, appointments etc – can obviously not be avoided, without a major rethink. Having a schedule that lists all of your regular tasks means that you can easily slot jobs into a specific amount of time.
Helpful Tips To Manage Your Time.
Don't take on more than you can actually manage. Keeping your tasks manageable stops you becoming overwhelmed by the amount of things you have to do.
If you're not sure where to begin, with a task, pause for a moment. Stop to consider all the requirements and list them clearly. This will enable you to identify and mentally prioritise.
Schedule a little bit of free time between each of the tasks you need to complete. This will give you time to rearrange your thoughts, and help you focus on the next task on your To-Do list.
Start thinking like a Planner. Visualising all the jobs you have to do, and the amount of time you have to complete each task, will help you organize yourself more efficiently. Visualising the completion of a task will bring you one step closer to getting the job done.
Reduce the frustration of wasted time, caused by delays throughout your day, by using the time to plan and reschedule the remainder of things you still have to do.
Writing actions down is crucial if you want to acknowledge that a task or event requires your attention. Once it appears in ink you are more likely to commit your time to get things done.
Don't use up valuable time worrying about all the things you still have to do. Save them up, write them all down and think about them only when you have worked through your daily events and can comfortably pause at the end of the day. Creating a formal worry period will halve the amount of concerns you spend your day focusing on.
You might also like...