Structuring Work - How Setting Up a Home Office Can Save Time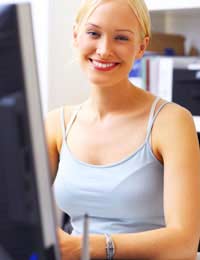 Whether you work in a company office and regularly take home an extra workload, spend part of the working week dealing with queries from the comfort of your living room or work full-time from your home office or dining room table, setting up a structured system that enables you to perform your tasks to the best of your ability is a sensible option that will reward you with increased efficiency and productivity.
Business to Business
Setting up a Home Office need not be a time-consuming or expensive task. If possible, set up a working area away from the main living areas of your home. A separate room makes the ideal space for a Home Office, as this will allow you close the door on your work responsibilities at the end of the day. If this idea is not a viable option your best solution is to set aside a space, within the living areas, where you can store equipment, documents and anything else you need for your business. Organising the amount of space you have at your disposal, so that you are able to work efficiently, will also enable you to achieve the maximum of output with the minimum of fuss and disruption to your living arrangements.
Home Working – Is This For You?
Working from the confines of a Home Office can be a help or a hindrance. If you organise your environment, prioritise your workload and are able to avoid the distractions found within your home comforts, you will be able to utilise the benefits of home working to your advantage. If on the other hand, you fail to clear sufficient workspace, casually sift your way through mountains of paperwork and look for distractions throughout the day you would be better off with a more restrictive office job.
Setting up a Home Office will not only save you time and energy, but it will also enable you to transfer work responsibilities from one location to another without any problems. Structuring the work that you regularly do, to fit in around the responsibilities and restrictions you have within a home environment, need not be as difficult or challenging as you may think. Once you have selected the perfect spot for your Home Office you will be able to begin managing your time and input more efficiently. Having designated areas where you can store documents, make phone calls, use a laptop etc will create a smooth-running business to home to business transition.
Hidden Advantages
Managing your time more effectively can be done without having to leave the comfort of your home environment. Practically every task you deal with in an office environment can be handled just as efficiently, productively and effectively from a Home Office. You can manage your diary and day-to-day workload, delegate responsibilities, communicate with others – using email, telephone, conference calls etc – work without interruption, hold meetings and perform every item on your agenda. All this can also be done wearing your favourite pyjamas.
Because you are now running your business from home, you will save on the time spent commuting, finding a parking space, walking across town to your place of work and generally avoiding all the distractions of office life. You will also save money.
Obvious Disadvantages
You will have to learn to manage your time more efficiently if you are working from home. Just because you don't have to be behind your desk by a specific time it does not mean you have an endless supply of time to achieve and complete all of the tasks and requirements of your job.
You will also have to become more self-disciplined with your time-keeping, as the comforts of home may start to appear more appealing.
Things to Consider:
Working at home can save you time, energy and money, but only if you are disciplined enough to work as productively as you would at the office.
Freeing up sufficient space for a Home Office will enable you to work more efficiently, with the minimum of distractions.
Being able to transfer work from the office to home effortlessly will result in greater productivity.
You might also like...