Identifying How You Really Spend Your Time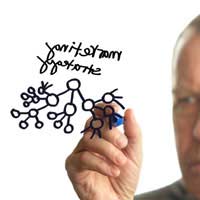 If you want to be more productive at work, or in the home environment, you will have to acknowledge how much time you have at your disposal, and how it is spent.
Own Goal
Knowing what your goals are will help you identify what you have to do to achieve them. Any plans to make progress, in a task, goal or chore, depend on what you want to achieve, and the amount of time you have available to complete the goal. Once you decide what your goals are you can begin working towards them.
Plan of the Day
Along with identifying your goals you will also be able to acknowledge how your time is spend. A Day Planner, or Activity Log, can help you list all the tasks and jobs that command your time. This timetable can chart all the tasks you routinely have to complete, along with jobs that occasionally require your attention. Being able to view the amount of tasks that fill your day will help you identify the ones that can be deferred or delegated to someone else.
Going with the Flow
A flow chart – where information can be listed to run into different sections, providing an information flow – can be a useful tool for identifying how the hours of your day, week or month are filled. This tool can help you construct productive and progressive measures to increase your available time and manage the amount of tasks you have to deal with. It will also keep you motivated to continue making progress.
Time Map
Mind Mapping can also help you plan your time to increase efficiency and productivity. Making a two-dimensional map of your personal time, and how you ideally want to spend it, is possible once you identify all the time you waste doing unnecessary chores or tasks, or by taking phone calls or answering emails.
Time Wasters
Once you have identified how your time is spent, and/or wasted, you will be able to analyse ways of increasing time and productivity. You may be surprised to discover how much time is spent on low-priority tasks or wasted making and returning phone calls or emails. You will also be able to note times of the day or week when you work more effectively or productively. For instance you may find you manage your time better during the first half of the day, and that your concentration drops in the afternoon. Being aware of the changes you experience throughout the day will allow you to plan positive changes to increase your time and results.
How to do Less but More
Knowing what your goals are will help identify the best ways of working towards them.
Using a Day Planner will enable you to identify productive periods and dips in efficiency.
Charting your progress will keep you motivated.
Aim to concentrate on high-priority jobs and tasks when you are at your most productive. This may be during the first half of the day.
Implement positive changes as soon as you are able to identify ways that your time is wasted.
You might also like...