How to Beat Procrastination at Work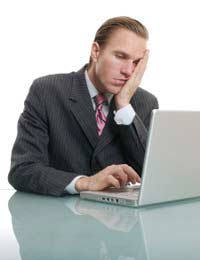 Procrastination is the mood stopper, task delaying, action canceling threat that most people encounter from time to time. It can instantly spoil your best-laid plans, sabotage focused development and limit your beliefs in your own skills and ability. Acknowledging how procrastination filters through your day will help you take control of it once and for all.
Time and Effort
When you are dealing with a variety of tasks, projects and jobs you may encounter challenging problems and complications that hinder your progress. These pauses may make you shift your focus so that you seek appropriate solutions swiftly, or they may cause you to stop what you are doing altogether. The realisation of the amount of time, effort and work you are going to have to put into a project or task can be enough to make you look for ways, and excuses, not to continue working on the task in hand.
Applied Logic
Procrastination can also be the reason why you do not begin tasks in the first place. You may be extremely focused on visualising your goals, developing plans and ideas and creating opportunities, but less so on actually getting started. Where taking action should be your next logical step, you may already be thinking up excuses to do something completely different. Acknowledging this problem will help you identify positive ways of overcoming it.
Delegating tasks and projects, as soon as you encounter the procrastination stage, will ensure that the job is completed satisfactorily and on time. Breaking up tasks, so that you deal with the work in smaller chunks, will also help you stay focused on completion. Managing your time, with the aid of a timetable, will also encourage you to think productively.
Break Time
If you encounter feelings of anxiety, or are overwhelmed by the amount of work you have to complete, scheduling regular breaks will help you re-focus and re-energise yourself. Managing your time effectively will be easier to do if you reward yourself with breaks or activities that you enjoy. This will encourage and motivate you to continue to think creatively and productively. Visually ticking-off all the completed tasks – draw up a checklist of tasks and mark completed work with a red pen – enables you to see how productive you are and will inspire and motivate you to beat procrastination.
Effective management of your time requires that you prioritise all your tasks. Prioritising enables you to acknowledge the importance, urgency and non-urgency of the tasks, and allows you to focus on what needs to be done. Breaking-up larger tasks, delegating some or all of the work and working through your list of tasks will all keep the momentum going and stop you from postponing and delaying. Tracking your progress, at regular intervals, will also keep you focused.
Do's
Do prioritise your tasks.
Do delegate work.
Do take regular breaks.
Do tick off all the completed tasks.
Don't's
Don't panic because you don't have enough time.
Don't take on too much work.
Don't forget to track the progress of your task.
Don't work continuously without taking breaks.
You might also like...