How to do Less but Achieve More at Home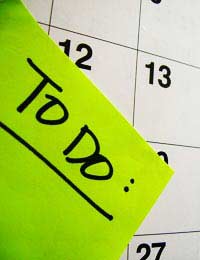 It is possible to achieve more, than you already do, in a home environment, but in order to do so you will have to enlist the help of others - family and loved ones, or anyone you share your home with - or organise yourself.
The Big Plan
Being organised is not as difficult as it may sound. Organisation requires clear thinking, list and task-making and the motivation to want to get things done and create improvement. Achieving more can only be done if you identify everything you already do - all the chores, tasks, jobs and requirements you fulfil on a regular basis. Once you have been able to identify how your time is filled you will be able to review and revise all your commitments, and begin planning how to free yourself of some of these.
Home Sweet Home
Making a list, or timetable of chores, enables you to focus on all the tasks that regularly have to be done. These include food shopping, bill paying, mowing the lawn, cooking, cleaning, clothes washing and anything else that your household takes part in on a regular day-to-day basis - school runs, trips to the local shops etc. If you share your home with other people it will be worthwhile noting any chores that each person takes responsibility for already. For instance, a partner may take responsibility for bill paying and food shopping, but never goes anywhere near the laundry basket or cooker.
An even distribution of chores is ideally what you will be looking at on your list. However, it is quite likely that what you will identify is an unbalanced list of responsibilities and chores, and if this is the case now is the ideal time to review and revise the way your household functions.
The Essentials
In order to do less, but achieve more, you will have to prioritise all the tasks that keep your household ticking along day-to-day and week-to-week. Whilst food shopping is absolutely necessary, queuing at the checkout for half an hour is not. Identifying where time is wasted will give you an opportunity to review your timetable, and encourage and motivate you to become more efficient and productive.
Delegating chores will free up some of your valuable time. You may choose to share or alternate responsibilities for certain chores, or employ help to take on the task full-time. Asking other people to accept responsibility for a task or chore should be done in a respectful way, if you do not want to end up having to do the chore yourself. Encourage and motivate others to help by showing them the amount of time that can be saved by sharing tasks and responsibilities. Highlighting the benefits of shared responsibility will enable others to identify the potential of less work and more time.
The To-Do List
Get organised. Don't just talk about it, action it.
Review and revise your commitments frequently.
Timetable household chores and identify tasks that can be shared, delegated or stopped entirely.
Motivate others to help you by highlighting the benefits.
Enjoy more free time.
You might also like...