Top 5 Problem Solving Techniques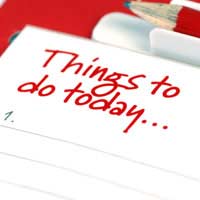 Increasing productivity and efficiency is only possible if your available time is spent using your skills and abilities creatively, to achieve positive results. Utilising resources can enable you to manage your time more effectively. Applying problem solving techniques can also create improvements and opportunities to alter your timetable, and enable you to achieve successful results.
Get Your Priorities Right
Learning how to prioritise all your tasks, chores and assignments will enable you to complete work in a more efficient and productive manner. Tackling the most important task first – and not necessarily the most urgent one – will ensure you start your day by positively working towards achieving your goals.
To-Do List
Create a Task diary or To-Do List. This is a useful tool for helping you to manage your time more effectively. If you find you have too many tasks to complete or you run out of time to finish assignments, a To-Do List will help your organise the management of your time.
You may decide to use a day planner to list all the tasks that require your attention. Listing all the commitments of your day, and restrictions on your available time, will enable you to understand how your time is spent. It will also allow you to identify any responsibilities, tasks or jobs that could be actioned in a more productive way.
A To-Do List is one of the most important tools you can use to increase productivity and successful results in any environment – home or work. List-making allows you to organise your time and tasks, and to control how these are managed and implemented. This method also encourages you to use reminder notes, brainstorming ideas and Mind Mapping to prompt your progress throughout the day.
Delegation
To increase productivity you must get on with the task, delegate it or defer the task completely. Any other action will result in ineffective progress. Acknowledging the requirements of the task will help you identify the best action to take. Considering the restrictions of time, or the task itself, can enable you to decide the best way to proceed.
Delegating a task to other people will enable you to progress through your To-Do List more efficiently. By delegating responsibility you will be able to manage your time more effectively, whilst still having the time to review the progress that is being made with the delegated task or job. Reviewing the situation will take up much less of your time than doing the task yourself, and is worth considering for any time restricted activity.
Stop Interruptions
If you want to get ahead with your work stopping unnecessary interruptions to your day will enable you to work productively. Enlisting the aid of support staff, to help you manage your time more effectively, will provide a solution to time wasting. Asking others to screen calls, organise visitor appointments or interruptions means you can devote time to achieving more.
Stay Focused
To complete tasks and assignments on time will require you maintain focus on the work you are completing. Staying focused enables you to concentrate on the task. This can only be successfully achieved however, by ensuring you have sufficient breaks throughout your day.
Taking a break will help you declutter your thoughts and re-energise your mind. Once you do this you will be more able to complete the tasks more efficiently and productively.
Top 5 Tips for Instant Success:
Prioritise your work.
Create a To-Do List and check it frequently throughout the day.
Delegate tasks and jobs to others to free up some of your time.
Stop time-wasting by avoiding unnecessary interruptions.
Take regular breaks to clear your mind.
You might also like...