How to Implement a Decision to Avoid Time Wasting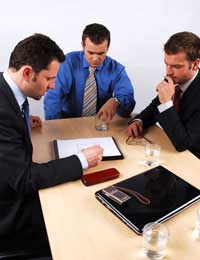 You can make any number of decisions, but until you take action to implement the choice you have made your conclusion is meaningless.
The Plan
Once you have made your mind up the next stage will be to execute a plan of action that enables your decision to become a reality. This is the ideal time to involve other people, as an understanding of your decision is an important issue to everyone it may concern. Make sure you are confident in the conclusion, or decision, you have made before you begin to set any wheels in motion and start implementing changes.
To make the best use of your time management encourage other people to analyse your decision. This will help everyone focus on a plan of implementation and help you avoid time wasting. As soon as your decision is acknowledged aim to set up a starting point and completion deadline, with additional review options if possible.
The Contact
As a decision-maker it is your job to inform other people of your decision. You must do this effectively and directly. Be aware that you will need to use different approaches, when dealing with staff, or different family members. Some people may possess a good deal of power and will need to be presented with your decision and convinced; whilst others will willing co-operate with you and contribute knowledge freely.
The Action
If your decision involves other people's involvement pay careful consideration to the skills that these individuals can bring into use. Being aware of these skills with enable you to delegate tasks with ease and confidence, and this in turn will help your decision's implementation. Be sure to communicate your message clearly, so that everyone can understand your vision. Failure to do so at this stage will result in time-wasting.
To ensure the smooth running of a plan there are steps you can take to release information and communicate your decision. Break your decision down into easily understandable parts, and discuss the main objectives. From this point you can explain all the actions that will now need to take place. Delegate if necessary, and provide deadlines for completion of the delegated tasks. You may also decide to offer periods of review, so that you can monitor progress as it is made.
The Result
It is important to avoid time-wasting. Therefore prepare yourself with as much information as possible before you start implementing your decision. This will save both time and effort later on. If you need to provide further information, to support your decision, do this swiftly. Always allow other people to express their views on your decision, as well as the way in which you plan to implement.
How to Make Implementation Easy
Good, clear, open communication is required when informing other people about your decision. Avoid any kind of secrecy. Where possible offer more information as this will ease other people's anxiety or concerns.
Encourage other people to offer their opinion on your decision. Doing this will create a free-flowing exchange of communication and ideas.
Delegate, if necessary. Ensure you utilise the skills of others for the best outcome.
Provide an opportunity to review progress. Monitoring in this way allows you an opportunity to offer support and encouragement.
You might also like...