Managing Your Time: Monitoring Your Progress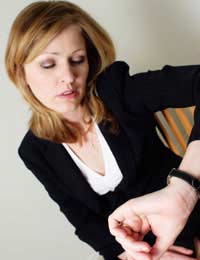 Whether you are working independently, or as part of a team, knowing how to make the best use of all the hours, and minutes, you have makes logical sense. Implementing an efficient method of time management will allow you to donate sufficient time to specific tasks and projects, whilst freeing up moments where you can do something else.
Time Zone
Do you work efficiently? Or do you simply think you do? Understanding, and accepting, time as a valuable resource means you will be wanting to get as much out of it as possible. Being able to make the most of the hours in each day, whether at work, home or play, requires that you look at the pattern, and time commitments, of your current regular habits.
Setting aside review time – where you can go over all the tasks, jobs, chores and daily demands of your day – will give you the opportunity to prioritise appropriately. New technology, like email and mobile phones, may appear to make life easier. When you stop and think about the amount of time, you spend each day, making and receiving phone calls whilst you are on the move, and replying to emails, you may start to realise that there are more productive ways of spending your time.
Flexibility
Being flexible enough to cope with all your usual demands and still take on more, requires an understanding of time management as well as goal definition. If you are capable of structuring a timetable of sorts, you will be able to deal with small chunks of tasks in an efficient and effective manner. It is important that you review your progress as you work your way through your tasks however.
Home Time
Unless you work from home you will have a set amount of hours in each day where you are expected to perform tasks and complete projects. At the end of this allotted period the best thing you can do is finish your work and go home. Working over your allocated time – unless you have deadlines to meet or have a specific task to complete – benefits you in no way.
Using time management wisely enables you to monitor your own progress within a specific amount of time – for instance, a 9-5 working day. Once you continue to work beyond this period you will be working habitually with less control of your workload and decreased productivity. Think smart and manage your time effectively.
Do's and Don'ts
Do think logically. Thinking you can accomplish everything in one day may not be realistic. Being able to break the tasks down into smaller chunks may help you achieve a great deal more than you would otherwise.
Don't get carried away. Just because you completed a task with time to spare it doesn't mean you will always do so. Being able to plan and understand your priorities will help you manage your time more effectively though.
Do set aside some review time. This will give you the time to check your progress and filter in any new priorities.
Don't rely on other people or technology to help you. Managing your time yourself is a far more efficient use of your time.
Do complete tasks in an allotted amount of time.
Don't be tempted to work late – unless you have good reason to – as you will not be working as efficiently or productively.
You might also like...