Understanding Stress and Making it Work for You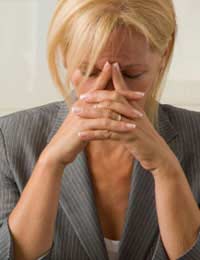 Stress affects most people at some time in their lives. Knowing how to control the negative affects of this condition can help you recognize the symptoms and the effects it could have on your health, relationships and work. Only then can you reduce and eliminate stress from your life.
Balancing Act
Stress is a powerful interference that can alter the balance in a person's mental health and wellbeing. Good stress – the adrenaline rush you get when meeting a deadline and feeling satisfied with your input – has many benefits. It can help you re-energise a situation and work more productively. Bad stress however, is harmful. It can cause behavioural problems, illness and despair. Learning how to read the warning signs will enable you to identify the symptoms and work towards eliminating them.
Sign of the Times
One of the first signs of stress will manifest in your eating habits. Long-term stress can create many health issues – high blood pressure and heart disease amongst them – and impact on your mental wellbeing also. Alcohol dependency, stimulant abuse, overeating and not eating enough are all common, easily-recognisable signs that your balance needs adjusting. Growing reliance on stimulants like caffeine, nicotine and alcohol will feed your self-destructive behaviour and increase your stress levels.
Physical signs may not be as easy to spot. The most likely symptoms are a combination of symptoms – digestive disorders, insomnia, fatigue, loss of appetite or overeating, headaches etc. It is important to listen to your body if you are experiencing any of these manifestations, and to consult your GP.
Emotional signs may also be evident, although other people will probably spot these signs before the stress sufferer. Feelings of guilt, sadness, apathy, poor concentration and loss of confidence are all clues that stress is at work.
Cause and Effect
Feeling under stress will take away your ability to make clear, well-thought-out decisions. Your self-confidence will also have taken a knock, and you could also experience mood swings and depression. Stress will also cause you to display erratic and destructive behaviour. Being aware of the causes, and the way stress affects your body, will enable you to alter the way you juggle work, relationship and home commitments so that you do not take on too many demands.
By changing your attitude, and the way you deal with your workload, you will be able to fight stress and relieve pressure. Managing your time better will ease feelings of there not being enough hours in the day to do everything you have to do. Prioritising the important tasks and delegating the remainder will also help.
Simple Ways to Avoid Stress
Leave your work in the workplace.
Take regular breaks, and whenever possible go for a walk outdoors. Allocate rest periods and quiet time away from the pressures of work.
Delegate tasks to free up some time.
Copy people who do not suffer from stress. Learn from the way they work productively, but in a stress-free manner.
Consult your GP if you feel you may be exhibiting signs of stress.
You might also like...