How to do Less but Achieve More at Work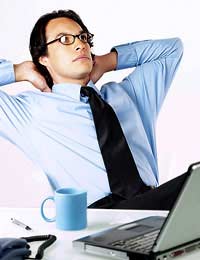 There are many ways that you can achieve the less is more objective in the workplace. Reviewing and revising the way in which you structure your day or week will give you a clear understanding of how you can implement changes that will create a more productive and positive outcome.
Quality not Quantity
Being a good manager or colleague will only be possible if you utilise your skills and knowledge for your benefit and the benefit of others and the company you work for. Assessing these qualities may require that you seek feedback from other people, but will give you a firm foundation from which you can build good relationships. These relationships will enable you to plan, monitor, delegate, manage and increase productivity.
In order to work effectively with other people you will have to demonstrate trust. Showing the people you work with that they can count on your support, skills, knowledge etc will ensure that respect and loyalty is reciprocated. Staff and colleagues will not perform to the best of their abilities for someone who is uncommitted so ensure you show commitment to any task, project or job that you undertake. This will make the task of delegating much more manageable.
How to do Less
Understanding the restrictions within your working day, or week, means you can start to implement positive changes that will help increase the amount of time you have available. By revising your timetable of tasks you will be able to identify tasks that can be delegated to others. Delegating that task as soon as possible will free up part of your timetable instantly.
Prioritising the remaining tasks enables you to acknowledge the importance of each individual task. This can draw your attention to other tasks and projects that could potentially be handled by other people. If this is the case, do not hesitate to delegate the task. Ensuring you monitor and review the progress of the tasks you have delegated will mean you are still able to offer support or suggestions should you need to do so.
Encouraging initiative in others will not only empower and motivate the individuals but also create opportunities for you to do less. Supporting and acknowledging the skills and abilities of your staff or colleagues creates a positive feeling and increases productivity and performance levels. Showing other people that you have trust in them will be rewarded by loyalty and improved service. This can be done by asking someone to implement a suggestion they thought of, or by delegating tasks to individuals who express an interest in achieving stretching goals.
Tailor Your Actions
Think before you take action. Planning carefully will ensure a task or project is implemented effectively the first time. Any changes that may have to be made can then be implemented appropriately, at the correct time. Tailoring your actions also enables you to acknowledge the amount of time you have available to complete the task or project.
Less is More
Reviewing your timetable frequently will help you identify tasks that can be delegated to free up available time.
Build good relationships with colleagues, staff and managers. Showing mutual trust and respect will reward you in numerous ways.
Acknowledge restrictions in your day, and work around them.
Prioritise tasks and delegate accordingly.
Encouraging initiative in others will empower them to make suggestions that you can implement to free up your time or to delegate tasks etc.
You might also like...