Implementing Change and its Effect on Timescales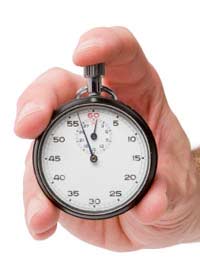 Once you understand how a change will impact on your work, task, project etc it is time to take action and implement the changes. In order to do this effectively it is important to communicate clearly, monitor and review progress and plan for further possible changes along the way.
Action Station
Implementing a change can be as easy or as difficult as you want it to be. Taking action and executing the change is only possible if you have understood the objectives and can plan effectively. Communicating your message clearly will ensure colleagues, delegates and others are able to acknowledge and understand the action that now needs to take place. Monitoring the progress of the change, as it is actioned, will enable you to identify any further changes that may be required. Keeping a check on progress can save time and effort later on.
In order to keep control of the implementation of any changes you will have to identify all the negative and positive effects the changes will have on timescale. For instance, if you are working within a restrictive timescale you may decide to delegate some tasks to free up time to implement further changes.
Keep it Brief
When briefing other people of the necessary change plans make sure you communicate clearly and effectively. Giving others the total picture will enable them to understand your plan, and provide an opportunity for the contribution of ideas or suggestions. Providing concise statements of the change implementation you want to pursuit will deliver confirmation that your message has been understood.
Effective Methods
There are many ways to communicate change. Choosing the most appropriate for your needs will make the change more manageable for you.
Presentation - This method delivers your message and stimulates understanding and involvement.
Training - One-to-one or group sessions prepare those that will be affected by changes and provide support.
Meetings - Monitoring progress, discussing issues or suggesting solutions can all be achieved by holding meetings with those involved with implementing change.
Troubleshooting - Asking for regular feedback and progress reports will keep you up-to-date with developments.
Maintaining the Momentum
Being aware of timescale you are working with will help you avoid possible pitfalls. Managing your time and reviewing and revising your progress will enable you to keep plans realistic. Ensuring everyone involved with the change is kept informed of further plans, or changes to existing plans, enables you to maintain control of your time.
Monitoring progress provides an accurate assessment of how the change is developing, and allows you to spot possible opportunities to maintain effectiveness and productivity and improve situations. Reassessing objectives should be seen as a positive opportunity, as you will be able to refocus your plans and maintain momentum with the task, project or situation undergoing changes.
Take the Stage
Ensuring you integrate any changes, so that each stage of the development of your plan builds on from the previous stage, will help all those involved in implementing the changes deal with the progress more effectively and productively. To keep change alive consider implementing further changes - either whilst the initial change occurs or perhaps after. These could be changes to the way you plan your day, timetable, tasks etc. Fine-tuning your management of time sets a positive example to others and improves the timescale of projects and tasks.
You might also like...