Realistic Planning for Projects to Fit in With Timescale's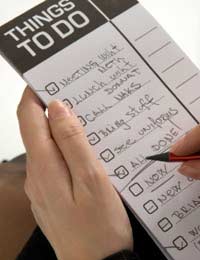 Successful planning requires being realistic about what is achievable within the restricted amount of time available. Carefully analysing your project, and planning accordingly, will achieve positive results.
Opportunity Knocks
Working with timescale's limits your opportunity and creates restrictions. Being flexible in your working approach can help overcome problems caused by having to adapt to the time restrictions. Flexibility also draws on creativity and positivity, so will encourage you to become more resourceful and able to deal with problems that may arise within the situation.
Making the most of every opportunity to expand your skills and knowledge will enable you to view restrictions in a positive way. Planning, in any form, will require you pause to consider all aspects of the project or task before you begin. Using this opportunity to review all the options will enable you to view the task realistically.
First Priority
Your priority, when planning a project, is to prioritise all the tasks required to complete the job. Listing these – both short-term and long-term priorities – will help you understand the importance of each individual goal or task. Priorities have a habit of changing however, so it is important to stay ahead of any changes that may need to be made. This is easily done, by taking the time to review your priorities at the start of each day.
Analyse your workload. How much of your time will be spent checking over other people's work? How much time could you potentially waste doing the wrong task? Is there sufficient time to complete all the necessary tasks? Identifying all the requirements of the task will allow you to plan objectives.
Strike a Balance
Your objectives should incorporate a mix of urgent, complex tasks and routine, mundane work that is non-urgent, along with jobs that can be spread throughout the day. Balancing these tasks should be an important part of your planning. Structuring your day around the importance of tasks will create an efficient method of working and achieving all of your goals and aims.
If the project consists of mainly urgent tasks it is important to delegate some of these to other people, with the relevant skills to complete them. As your project nears completion it is sensible to review the remaining tasks and re-prioritise your goals. Doing this will allow you to focus and concentrate on achieving the outcome you want to achieve.
Easy Steps for Realistic Planning
Identify your objectives. Knowing how much work your project requires will enable you to prioritise your workload.
Be realistic about timescale's. Most tasks take a longer amount of time than most people anticipate. Filtering in sufficient time to complete tasks – with or without setbacks occurring – will help identify possible pitfalls in your planning.
Balance your day. Planning your project so that urgent, non-urgent and flexible tasks are combined will enable you to achieve a good balance of what is realistically achievable within a timescale.
Delegate. Freeing up time to tackle any problems that may arise can only be done by delegating tasks to other skilled people. Doing this will increase the timescale within your project.
You might also like...